Accounting: A Changing World and Recruiting Advice
Recruiting Season Has Begun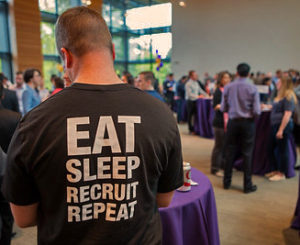 With recruiting season once again firing up in the accounting world, we asked as many Seattle area firms as we could to answer two questions–one that might shed some light on the rapidly changing field of accounting and the other to offer insights into what firms are looking for when hiring.
Seven firms answered the call (BDO, Grant Thornton, KPMG, Moss Adams, Peterson Sullivan, PwC, and Sweeney Conrad) and their thoughtful responses offer clear guidance to future accounting professionals.
BDO
What qualities and abilities are you most looking for in a new hire?
BDO is a place for energetic self-starters who can think and act like entrepreneurs. We seek individuals that demonstrate a growth mindset, and are interested in innovating and personally developing. This is a people business, so we seek candidates that can speak to excellent client service, mentorship and leadership. In new hires we expect a high level of professionalism and ability to learn and thrive in a supportive environment.
How is the field of accounting changing?
Technology continues to change the field of accounting not only in proper treatment but also in cybersecurity previously thought to be beyond our realm. As BDO continues to innovate internally we are actively focusing on those services that add value to our clients externally. This means we are leveraging technology to replace monotonous tasks so that our people can focus on those opportunities. We want our professionals to spend their time working alongside clients to help solve their problems rather than waste hours inputting data. We are also seeing professionals succeed that have a background beyond just Accounting but could include other fields such as Information Systems, Human Resources, etc.
Grant Thornton
What qualities and abilities are you most looking for in a new hire?
We look for people who want to grow. Individuals who are flexible, open to learning, and ready to innovate in order to deliver the best value to our clients. The ability to look beyond a seemingly ordinary project and find a unique way to deliver additional value to a client is invaluable, especially for someone entering the dynamic field of accounting. In essence, we seek curious individuals who are passionate about proactively finding the best path forward for our clients, culture, and firm.
How is the field of accounting changing?
The field of accounting is rapidly changing. Gone are the days of sitting in your cubicle ticking and tying with colored pencils. Now is a time for providing deep insights and customized solutions to our clients who are facing new challenges in their ever-changing business environment. Accountants today need to work collaboratively and globally and they need to be armed with the tools and technology that allow them to gather insights from company data and turn it into valuable information. Whether it is an audited financial statement or a tax return, the value that we bring to our clients goes beyond those deliverables.
KPMG
What qualities and abilities are you most looking for in a new hire?
KPMG is looking for high performers with strong technical accounting skills to collaborate in teams to successfully serve clients. 
How is the field of accounting changing?
Innovation is disrupting industries by the minute. There is a high need for a deep understanding and ability to couple strong technical accounting skills with technology. Whether it's critically thinking about how a bot or other means could be more effective or using tools to perform a task in a smarter way, technology continues to dramatically change business as we know it.
Moss Adams
What qualities and abilities are you most looking for in a new hire?
High emotional intelligence, strong analytical attributes, and a positive attitude!
How is the field of accounting changing?
Currently there is a lot of technological disruption with the increasing implementation of data analytics and artificial intelligence. The role of the accountant is becoming more of a consultative focused, vs. solely compliance driven.
Peterson Sullivan
What qualities and abilities are you most looking for in a new hire?
When considering candidates, we are most interested in those students who have demonstrated their interest in lifelong learning. This may look like taking an active role in Beta Alpha Psi or a related organization, excelling in accounting courses, and/or coming to us recommended by their professors. We also focus on fit with our firm culture and communication skills. We are most interested in candidates who are passionate about getting involved with our firm as a whole. As stellar and frequent communication is also vital to the success of a job in public accounting, we need to know that students will be intentional about communicating with their team members about the status of their assigned tasks and their questions. Ultimately, we are eager to hire students who we will love working with, and who will love working with us!
How is the field of accounting changing?
At our firm we have noticed that the pace in which new hires are able to "ramp up" is becoming shorter and shorter.  Due to better curriculum being provided on campus, advancements in technology, and what we assume is an eager and passionate generation, associates are quickly gaining technical and professional competency within as little as 18 months before being considered for their first promotion.  Employees seem to have an understanding that their ability to best serve their clients lies in their ability to become true business advisors and well-rounded professionals quickly and with the utmost professionalism.
PwC
What qualities and abilities are you most looking for in a new hire?
At PwC, we look for several different things in a potential new hire. The world is changing and so is the way we work, so we're looking for individuals who can be infinite learners.  We look for an ability to lead others and to lead self, as well as an ability to build lasting relationships while maintaining technical expertise.   Our new hires should bring knowledge related to the businesses we deal with and create value for our clients.  We also look for new hires that support diversity and inclusion through transcending boundaries. 
How is the field of accounting changing?
Technology is disrupting the way we work across our business.
At PwC, we are tech-enabling the audit, matching emerging technology with the skills of our people to dramatically shift how we work. Our award-winning auditing tools help to shift manual tasks to machines, allowing us to focus more on areas of higher risk and deliver new insights.  Our people and approach are critical to this development. Technology is just the enabler. We call it "human and machine collaboration"—and this combination is far stronger than either one alone. 
PwC has a clear vision of the Tax Function of the Future. It'll have fast, flexible and responsive tax reporting processes characterized by increased automation, better integrated data and processes, more analytic capabilities and technology-savvy tax professionals. And it will deliver better quality output in less time, freeing up people from routine, mundane work to tackle more value-creating activities. 
Sweeney Conrad
What qualities and abilities are you most looking for in a new hire?
At Sweeney Conrad we like to give our associates client contact as soon as possible, so communication skills are very important. Our first year auditors are immediately out at clients doing work and talking with their accounting staff, controllers, and even CFOs. We also advise and serve a large variety of clients in the tax department, so we look for candidates who have drive, people who enjoy challenges and working through complex projects. Associates who are eager to learn and work diligently through problems thrive at Sweeney Conrad. While we teach you everything you need to know, you need to want to learn it too J A great attitude really comes a long way. 
How is the field of accounting changing?
The technology used in the accounting field is advancing and is now more important than ever. The increased use of technology allows us to improve the service and products we provide to our clients and increases our efficiency. Auditors are using data extraction software to enhance audit procedures and tax associates are using advanced projection software to advise clients on future tax implications of various scenarios.
Sweeney Conrad has been increasing its flexibility and allowing employees to work more remotely over the last 5 years, and we are seeing this shift occur in other firms as well. Like Sweeney Conrad, many accounting firms are constantly looking for ways to improve the workplace and client service to stay competitive. It takes a nimble firm to stay on the front end on the ever-changing field of accounting!
Final Notes
You probably noticed the theme of technology arising in many of the firms' answers.  The Graduate Accounting Programs at the Foster School of Business is on the cutting edge of this technology and is participating in shaping the future of accounting. Learn more about and the Master of Professional Accounting and the Master of Science in Taxation.
Foster School Accounting students, graduate and undergraduate, have the outstanding Foster Career Services to help them prepare and strategize for the recruiting process. Visit them right away.