AI Wins Big at 2023 Dempsey Startup Competition
Students using artificial intelligence for good captured multiple prizes in the 26th Annual Dempsey Startup Competition at the University of Washington. Judges awarded the $25,000 Herbert B. Jones Foundation Grand Prize to team Cledge for its novel application of AI to democratize college advising. The team of UW computer science students created a platform that uses AI to help students find the best college fit without having to resort to hiring private advisors to help with admission.
Cledge also made history as the first team of students from the Lavin Entrepreneurship Program to win the multi-stage competition hosted by the Buerk Center for Entrepreneurship in the Foster School of Business. Cledge previously made the Sweet 16 Round in the 2022 Dempsey Startup.
Judges awarded the $15,000 BECU Second Place Prize to AMOR from UW. The team of mechanical engineering students developed a liver support system that helps liver failure patients increase their survivability in recovery, or while waiting for a transplant. Their device is also set up so any dialysis operator can use it with minimum training. AMOR previously won the $10,000 Herbert B. Jones Foundation Second Place Prize in the 2023 Hollomon Health Innovation Challenge (HIC).
The $10,000 WRF Capital Third Place Prize went to Simpl-E-Vac for designing a way to address the improvised nature of existing endoscopic vacuum therapy devices. The UW team of mechanical engineering, chemical engineering, and Master of Science in Entrepreneurship (MSE) students aim to help gastroenterologists treat leaks more reliably and effectively. Both Simpl-E-Vac and AMOR are student-created startups that came out of UW's Engineering Innovation in Health (EIH) program.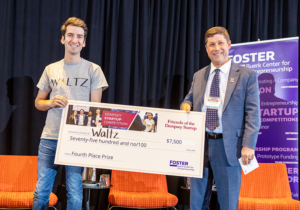 Team Waltz won the $7,500 Friends of the Dempsey Startup Fourth Place Prize with another innovative AI-based service. The UW team of Foster Evening MBA and computer science and engineering students created a way for media companies and content creators to easily translate and dub content into 100+ languages without losing emotion, intonation, or the voice of the speaker.
Waltz also won the $2,500 DLA Piper Best Idea with Global Reach Prize, which recognizes a venture that has aspirations for acquiring customers around the world.
Additional Prizes Awarded to Dempsey Startup Investment Round Teams
Ten additional Best Idea and Big Picture prizes were awarded to teams who competed in the Investment Round (Top 37) on Thursday, May 4. Judges selected FLARE for the $5,000 Glympse Internet of Things (IoT) Prize. The team of UW Foster Executive MBA students is developing a wearable device for wildland firefighters that increases the safety and efficiency of those on the frontlines. The device provides real-time location through mesh Wi-Fi and satellite constellations, environmental sensors, and an affordable price point. The prize recognizes a business venture that has incorporated new products or services that contribute to the IoT ecosystem and enables these objects to collect and exchange data to create new consumer experiences.
The $5,000 MOD Pizza Social Impact Prize went to team BioNova representing Walla Walla University. The team of business, psychology, and social work students is developing a biogas production process that can be used as an alternative to wood and charcoal for cooking fuel in communities like Tanzania, Zimbabwe, Brazil, and Peru. The Social Impact Prize recognizes a venture that "not only demonstrates the capacity to deliver financial performance, but also shows how it makes a positive contribution to society." BioNova previously won the $5,000 UW EarthLab Community Impact Prize at the 2023 Alaska Airlines Environmental Innovation Challenge.
The $2,500 eBay Best Marketplace Idea Prize was awarded to Joosi from UW. The team of MSE and communications students developed a scalable adult product retail platform that uses recommendation engines, educational videos, and community building to create a better alternative to brick-and-mortar stores. This prize recognizes ventures that are creating a commerce or payments platform for communities of buyers, sellers, or businesses.
The brand new $2,500 New Impact Tri-Sector Innovation Prize was awarded to Octagram. The team of MSE students developed an augmented AI product to accelerate the creation of greener and sustainable buildings by giving engineers advanced tools for certification. That fits the requirements for the new prize which recognizes a venture that combines financial success and positive societal impact by leveraging existing resources from the public, private, and social sectors.
Luna+Coco took home the $2,500 Thatcher & Shannon Davis Best Consumer Product Idea Prize, which goes to a team that offers a compelling new consumer product in a well-defined market. The team of UW Foster MBA students developed an innovative all-in-one dog jacket that addresses pain points for dog owners including managing essential items, transportation, and protecting them from elements.
The $2,500 Perkins Coie Best Innovation and Technology Prize was awarded to Naturacur Wound Healing. The team of UW Foster Executive MBA students developed a patented, cost-effective and portable solution for optimal healing of necrotic tissue in injuries. This prize targets a venture that has a new application for a current technology, a disruptive technology, or an idea that represents a substantial improvement in a product or process.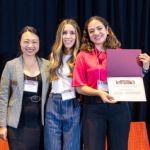 The $2,500 Saara Romu Community Impact Prize, which recognizes a venture that has a direct impact on the lives of women or other underserved communities, was awarded to Tizana Mexicana from UW. The MSE, MS in Supply Chain Management, and marketing students is developing a platform centered around honoring and elevating the exceptional artistry of local artisans by connecting their generational talent with customers who share a passion for Mexican culture and traditions.
Judges awarded NaturallyContained the $2,500 Smukowski Family Best Sustainable Business Prize, which goes to a venture that has incorporated best practices toward resource reduction while bolstering profitability and cost containment. They are bringing to market a hyper-renewable and zero-waste soil packaging solution that reduces plastic waste in the gardening industry. The team of MSE, computer science, management, and aerospace and aeronautical engineering students features members from UW, the University of British Columbia, and UCLA.
Endozene won the $2,500 Karr Tuttle Campbell Best Health & Wellness Impact Idea Prize, which recognizes a venture with significant potential to prevent, diagnose, or treat diseases or disorders that impact human health. The team of bioengineering, biology, and philosophy students from UW is developing a non-invasive, low-cost diagnostic kit to accurately predict if a patient is suffering from endometriosis. Endozene previously won the $15,000 WRF Capital Grand Prize at the 2023 Hollomon Health Innovation Challenge.
Oryzi won the $2,500 Voyager Capital Best Business to Business Idea Prize, which recognizes a venture that offers an innovative B2B product or platform. The team of UW Foster Technology Management MBAs (TMMBA) won the prize for its sustainable paper and packaging creation process that uses fungi to be more environmentally friendly.
The Buerk Center for Entrepreneurship wishes to thank all 29 sponsors who helped make this year's competition possible. The 2023 Dempsey Startup Competition received a record 117 submissions from 13 colleges across the Cascadia Corridor—including Washington, Oregon, Idaho and British Columbia. Adjusting for this year, more than 6,330 students on over 2,050 teams have competed in the competition since it began in 1998. In the past 26 years, 231 teams have earned prize money totaling just under $1.9 million dollars. Overall, the Buerk Center has awarded just shy of $5 million dollars to students since 1998 through multiple competitions and the Jones + Foster Accelerator.
PitchBook's Founder Awarded Alumni Entrepreneur of the Year
The Buerk Center also awarded the second annual UW Alumni Entrepreneur of the Year Award to John Gabbert (Business Administration '96), founder and CEO of PitchBook. Gabbert founded the company in 2007, and in 16 years, grew it to $650 million in sales with 3,000 employees. PitchBook was acquired in 2017 and valued at $225 million. PitchBook fosters a unique company culture that develops strong relationships and employee engagement while also building up the global private equity, venture capital, and M&A markets with data, technology, and services.
Gabbert has also been a standout alumnus of the Foster School of Business. For years, students would engage with him as he spoke to classes, judged in the Dempsey Startup, and mentored in the Jones + Foster Accelerator program. In 2017, he served as the Fritzky Endowed Chair in Leadership, a prestigious faculty position designed to bring leaders to campus to share their expertise with faculty and students. He also serves on the Dean's Advisory Board.
This year's award was presented by the first-ever winner, Amber Ratcliffe (MBA '03), who won the business plan competition in 2003 with a biotech company that she co-founded, NanoString Technologies. The UW Alumni Entrepreneur of the Year Award was created to recognize UW alumni that have worked hard to create, innovate, and contribute in a meaningful way to the Seattle entrepreneurial ecosystem.
Complete List of 2023 Dempsey Startup Prize Winners
$25,000 Herbert B. Jones Foundation Grand Prize: Cledge
$15,000 BECU Second Place Prize: AMOR
$10,000 WRF Capital Third Place Prize: Simple-E-Vac
$7,500 Friends of the Dempsey Startup Fourth Place Prize: Waltz
$5,000 Glympse Internet of Things (IoT) Big Picture Prize: FLARE
$5,000 MOD Pizza Social Impact Big Picture Prize: BioNova
$2,500 eBay Best Marketplace Idea Prize: Joosi
$2,500 New Impact Tri-Sector Innovation Prize: Octagram
$2,500 Perkins Coie Best Innovation/Technology Idea Prize: Naturacur Wound Healing
$2,500 Thatcher & Shannon Davis Best Consumer Product Idea Prize: Luna+Coco
$2,500 Saara Romu Community Impact Prize: Tizana Mexicana
$2,500 David & Patty Helberg Smukowski Best Sustainable Business Idea Prize: NaturallyContained
$2,500 Voyager Capital Best Business to Business Idea Prize: Oryzi
$2,500 DLA Piper Best Idea with Global ReachPrize: Waltz
$2,500 Karr Tuttle Campbell Best Health & Wellness Impact Prize: Endozene
Accelerator
,
Alaska Airlines Environmental Innovation Challenge
,
Buerk Center
,
Buerk Center for Entrepreneurship
,
Business Plan Competition
,
Dempsey Startup
,
Dempsey Startup Competition
,
entrepreneurship
,
Health Innovation Challenge
,
Hollomon Health Innovation Challenge
,
Jones + Foster Accelerator
,
Lavin Entrepreneurship Program
,
Startup Competition
,
Student Entrepreneurship
,
UW Business Plan Competition