Chen elected as Fellow of the Academy of Management, publishes third edition of research methods book
Xiao-Ping Chen, a professor of management and the associate dean for faculty and academic affairs at the UW Foster School of Business, has been named a Fellow of the Academy of Management (AOM).
The AOM is the premier professional association for management and organization scholars worldwide with nearly 20,000 active members. The AOM Fellowship is highly selective and Chen is one of only nine fellows elected this year.
Chen, the Philip M. Condit Endowed Chair in Business Administration at Foster, has been a member of the AOM since 1995. There she has served as representative at large in the Organizational Behavior Division, as a member of editorial panels, and as faculty advisor for paper development workshops. She also served as a co-guest editor for a Special Research Forum entitled "West Meets East: New Concepts and Theories" in the Academy of Management Journal, among other service.
From 2010 to 2016, Chen served as editor-in-chief for Organizational Behavior and Human Decision Processes (OBHDP) and is currently editor-in-chief for the bilingual, Chinese-English magazine Management Insights.
Her research focuses on cooperation and competition in social dilemmas, teamwork and leadership, entrepreneurial passion, creativity, Chinese guanxi, and inter-cultural communication.
With over 50 academic articles published in English and 20 in Chinese, much of Chen's work has appeared in top-tier journals such as Academy of Management Review, Academy of Management Journal, Journal of Applied Psychology, OBHDP, Management Science, and Journal of International Business Studies.
She is also an elected Fellow in the American Psychological Association and in the Society of Industrial and Organizational Psychology.
Research "Bible"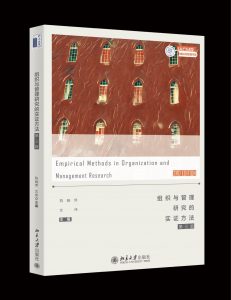 Most recently, Chen completed editing the Chinese best-selling academic book entitled Empirical Methods in Organization and Management Research. The book was first published in 2008 with co-editors Anne Tsui and Larry Farh. This third edition, with Dr. Wei Shen as co-editor, includes contributing authors Anne Tsui (Notre Dame), Chao Chen (Rutgers), Jia Lin Xie (Toronto), Hui Liao (Maryland), Dong Liu (Georgia Tech), Simon Lam (Hong Kong University), David Zhu (Arizona State), Jasmin Hu and Kaifeng Jiang (Ohio State), Zhaoli Song (National University of Singapore), Jian Liang (Tongji University), Changhui Zhou and Weiguo Zhong (Peking University), and more.
The book walks readers step-by-step through the entire research process, beginning with the philosophy of science. It advises new scholar on how to identify and ask research questions, how to build theory and theoretical frameworks and how to select methodologies to answer research questions. It introduces the available methods in research design, data collection and data analysis. And it demonstrates how to write a research paper, get it through the review process and, ultimately, get it published in an academic journal.
Chen and her colleagues have produced a comprehensive guidebook for faculty and PhD students — a kind of "Bible" for management researchers.
"I love writing and sharing my experiences, thoughts and knowledge to help others grow and become great scholars in the field," says Chen, who anticipates that the book will "definitely" be a best-seller.