Determining a Suite Deal for Columbia Hospitality
This past March 3rd, capstone case competition day, was no different from previous ones. There were 50 teams that competed in the quarterly case competition for their Strategic Management class. Between the 250 students, 45 judges, and 50 volunteers, Paccar Hall was thoroughly busy that Friday morning. Each team had four or five students who had worked together over the past few weeks to read the case, conduct research on the company and industry, consider a potential recommendation and its alternatives, and ultimately present to the panel of judges.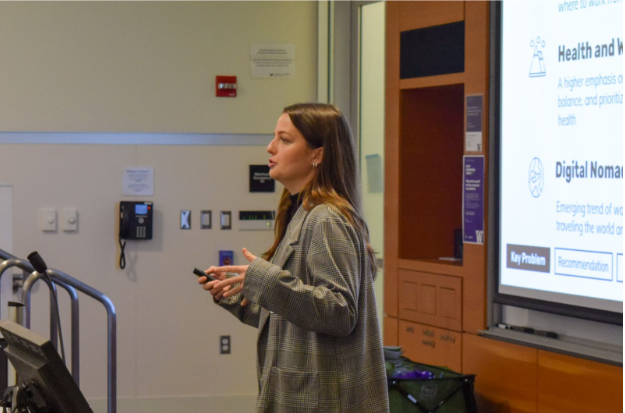 "The Strategy Development Case Competition definitely helped grow both my personal and professional skills. It not only helped build my confidence in presenting, but also showed me the value of what good communication and teamwork can accomplish." – Michela Gordon
This quarter, the Foster School of Business partnered with Columbia Hospitality on a case written by Janice Bautista and advised by Rick McPherson. The students were given the following charge for the case competition: 
The home short-term rental market (e.g., Airbnb, VRBO, HomeAway and offerings by travel websites such as Booking.com and Expedia.com) are a threat to the traditional hotels and resorts, such as those operated by Columbia Hospitality, especially those in urban areas. How should Columbia Hospitality position its premier hotels and resorts to compete with the rising threat of peer home rentals? You may want to consider if there is a "Blue Ocean" Strategy that innovatively straddles the two strategic market groups, or creates new experiences and offerings?
The teams have twelve minutes to present their solution, alternatives, implementation timeline, and financial analysis, so they must be concise in their presentation. After the team concludes, the judges have an eight-minute Q&A session to ask teams any questions. Finally, the judges have five minutes to provide each team with feedback. 
"Participating in this case competition allowed me to think both creatively and critically. Developing a "blue ocean strategy" for the client was a challenge and required me to think big and take on risk. Committing to an idea, and getting to share that with real business leaders allowed me to grow my confidence and presenting skills. In the business world there is no way to fully predict the outcome of a new idea, but believing in it yourself is the best first step. This project was able to replicate many aspects of the business world and allowed us to get first hand experience as students." – Taylor Kalka
All 50 teams presented in the preliminary round of presentations and had an opportunity to network with the judges during the lunch break after the preliminary round. Then,10 teams moved forward to the final round and presented to another panel of judges in two different rooms. Each final round room selects one winning team, so this quarter, there were two winners. An award ceremony concludes the day, where Foster's Dean Frank Hodge spoke and the judges announced the two winning teams. 
"I believe participating in the Strategy Development Case Competition helped me grow as both a business student and a professional for a multitude of reasons. We were given the opportunity to work on a team, navigating how to communicate and agree upon our ideas in a professional and efficient manner. Additionally, we were given a real world problem that a company is facing, and utilized the knowledge we acquired from this class and our time at Foster as a whole to thoroughly develop an effective solution for the company, including financials and implementation. There was an added level of professionalism presenting in front of judges who were members of the Columbia Hospitality team and Foster employees. We were also given the opportunity to answer questions as we would in a real business solution proposal, as well as receive and incorporate feedback for the final presentation. Overall I feel very thankful for this opportunity that allowed me to gain professional experience and truly prepare me for the real world, while encompassing everything I have learned in the Foster School of Business thus far." – Elizabeth Lower 
Here are the recommendations from the winning teams: 
E2 (pictured below: Michela Gordon, Dillon Grady, Mark Mcclean, Morgan Mocherman, and Lauren Pirak): Our recommendation is for Columbia Hospitality to implement a streamlined group booking process, called Columbia Retreats, where users can book group package deals, including restaurants, block lodging, and on-site experiences, under one reservation. Following confirmation of the booking, individual members of the group can download an integrated app, where they can personalize their own, custom itinerary within their group booking.
F3 (pictured below: Elizabeth Lower, Allie Okamoto, Taylor Kalka, Monsi Pingili, and Sarah Huang): Our recommendation is WorkAway: an integrated coworking space in Columbia Hospitality properties promoting health and wellness to remote working millennials suffering from burnout.
Overall, all teams worked tremendously hard over the past few weeks and did incredible. This capstone class has allowed the students a great opportunity to utilize and develop the skills they've learned throughout their time at Foster. Columbia Hospitality also found tremendous value from the experience and looks forward to future engagements with Foster students. 
"To say our team of judges from Columbia had a blast, would be an understatement as we are still talking about how amazing students at the UW Foster school are! THANK YOU for providing us this opportunity to think in a different way, meet your students, and learn from their perspective as future hospitality guests and leaders in our sector. "  – Jeni Elam, Columbia Hospitality.