Foster Study Abroad Photo Contest 2017
The Global Business Center is very happy to announce the winners and 2nd place recipients of its 11th Annual Foster Study Abroad Photo Contest. This year's entries represent the transformative and unique global experiences that study abroad and Global Business Center offers for students each year. These incredible photographs come from all around the world, showing everything from the beauty of nature to global personal interactions. The captions reveal deeper insights on their accompanying pictures to help bring their stories to life. Both current Foster students and Foster alumni submitted photos of their study abroad experiences.
Students and Alumni submitted their photos to one of the following categories:
Foster Spirit: Do you have any photos showing off Foster/UW swag while abroad? This is the category for you! NOTE: Current Foster students ONLY.
Study Abroad & Me: A photo that includes you and/or friends you made abroad. Inspire others to go abroad with a photo of you and/or your friends seeing the world! NOTE: Current Foster students ONLY.
My Global Lens: A photo that displays views uniquely accessible to students living abroad – social issues; cultural interactions; cityscapes; landscapes; etc.NOTE: Current Foster students ONLY.
Alumni: A special category exclusively for Alumni! The category is for photos of any global travel that you have done during your study abroad experience as an undergrad or graduate student. NOTE: Foster Alumni ONLY.
Foster School Faculty and Staff judged photos based on creativity, quality, originality, and overall impact. The winning photos received the most votes within their particular category. The People's Choice winning photo received the greatest number of votes by the general public.
Enjoy these amazing photos!
GRAND PRIZE
Amber Lee, Direct University Exchange (Sydney, Australia)
Location: Yangon, Myanmar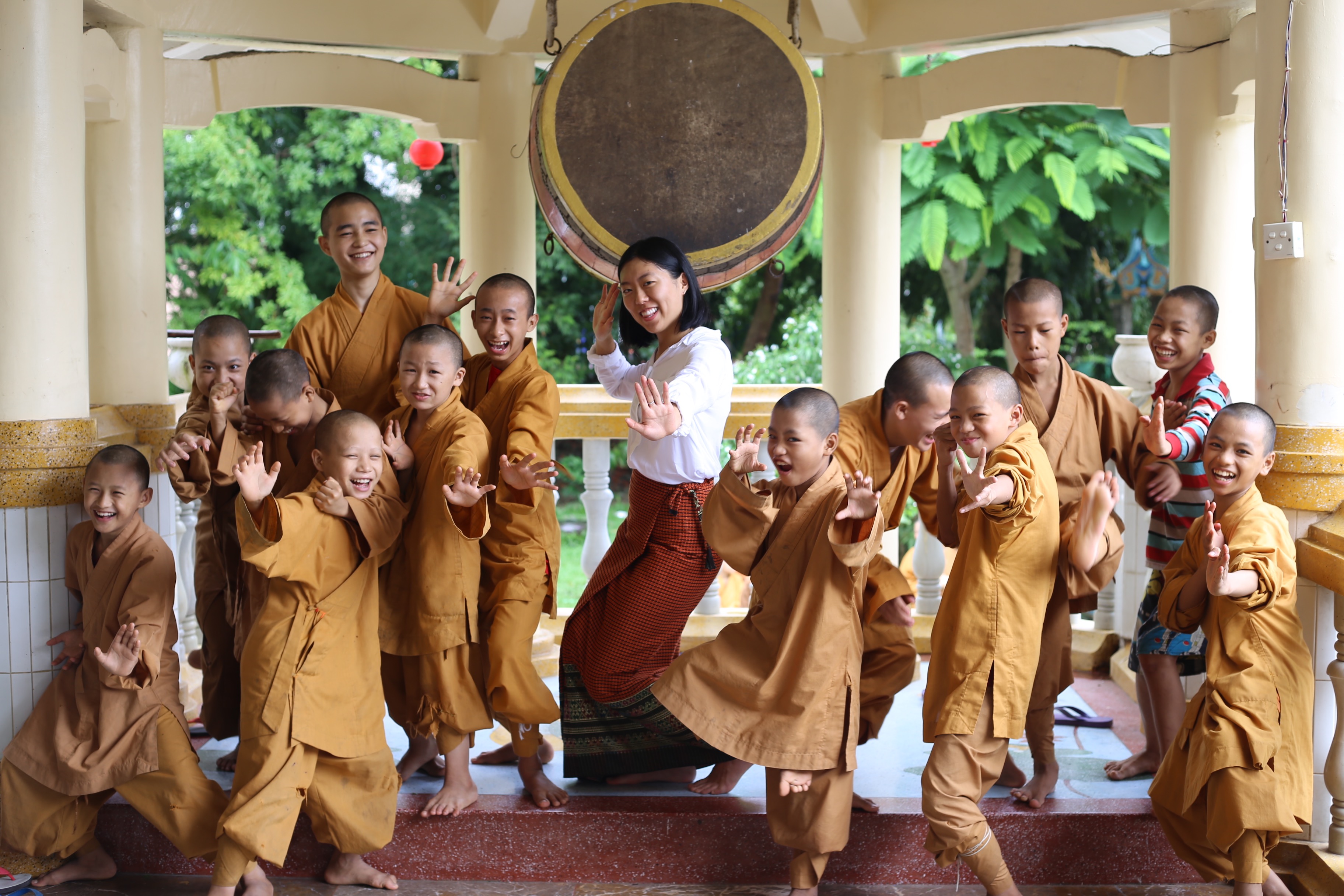 Title: Class Photo
Caption: I spent a month teaching in a Burmese monastery. We took this class photo on the last day of class.
PEOPLE'S CHOICE, 1st Place
Fethawit Musye, Half the Sky Exploration Seminar (India)
Location: Agra, India
Title: Two out of the Seven Wonders of the World
Caption: Taj Mahal
PEOPLE'S CHOICE, 2nd Place
Amber Lee, Direct University Exchange (Sydney, Australia)
Location: Bagan, Myanmar
Title: Mango Seller in a Temple
Caption: Sellers are tucked in every corner of the Burmese temples. We bought tiny, sour mangoes and white chains of jasmine from this seller.
FOSTER SPIRIT, 1st Place
Ashley Lim, Triple Impact Africa Exploration Seminar (Morocco)
Location: Toubkal, Morocco
Title: Under The Night Sky
Caption: Night 1 of our trek through the High Atlas Mountains. It was just us, the stars and the mountains.
FOSTER SPIRIT, 2nd Place
Sabrina de Bont, RSM Erasmus University Exchange (Rotterdam, Netherlands)
Location: Cliffs of Moher, Ireland
Title: Home is Where the Husky is
Caption: Took a quick trip to the Cliffs of Moher on a sunny day.
STUDY ABROAD & ME, 1st Place
Lucas Boland, University of Canterbury Exchange (Christchurch, New Zealand)
Location: Aoraki National Park, New Zealand
Title: Hike Up, Hands Up
Caption: Sometimes, after hiking up a staircase with 2200 steps that ascend straight up a mountain, you just can't help but throw your hands in the air at the top!
STUDY ABROAD & ME, 2nd Place
Lucas Boland, University of Canterbury Exchange (Christchurch, New Zealand)
Location: Aoraki National Park, New Zealand
Title: Lace Up For Study Abroad
Caption: At this time, I was just a wee lad, lacing up for my time in New Zealand. The first chance I got abroad, I went straight to the country's tallest mountains: the Southern Alps near Aoraki/Mt. Cook. The stars seemed to keep multiplying this night – I've never seen a sky so full.
MY GLOBAL LENS, 1st Place
Arianna Moscatel, Half the Sky Business Exploration Seminar (India)
Location: Monolithic Rock Temples, Mahabalipuram
Title: Curiosity 
Caption: I stood in front of the temples just outside of Chennai on our first full day in India. Everything around me was new and overwhelming and uncomfortable, until this rare moment when these children walked by. It was a reminder to approach this new experience with a child-like curiosity, and I felt a sense of calm and newfound appreciation for the present moment I was experiencing.
MY GLOBAL LENS, 2nd Place
Raphael Gaultier, Sciences Po Exchange (Paris, France)
Location: Sahara Desert, Morocco
Title: In the Desert
Caption: At the crack of dawn in the Sahara desert.
ALUMNI, 1st Place
Pritha Chaudhur, Foster MBA Global Business Study Tour
Location: Tokyo, Japan
Title: A-Bomb dome
Caption: This building survived the atom bomb blast in Hiroshima, even though it was very close to the hypocenter.  It serves as a memorial, and a symbol of peace and resilience.
ALUMNI, 2nd Place
Mauricio Cerna, Summer Exchange Program and 2 MBA Study Tours
Location: Tokyo, Japan
Caption: Old cultural gems inside a first class city like Tokyo.
Special thank you to our staff and faculty judges for their participation and photo expertise:
Jessica Aceves, Kathleen Allen, Andrew Anderson, Kirsten Aoyama, Leta Beard, Abhishek Borah, Mike Bozee, Susie Buysse, Xiao-Ping Chen, Roland Dukes, Emily Engel, Russ Fish, Christina Fong, Jenny  Forbes, Deanna Fryhle, Paul Gibson, Debra  Glassman, Cate Goethals, Randell Hernandez, Lee Hochberg, Frank  Hodge, Krista Jacobs, Sara Jones, Ted Klastorin, Ed Kromer, Andrew Krueger, Belina Makonnen, Theresa Maloney, Teresa Marks, Marty Matthews, Kate Merriwether, Anna Micklin, Alex Murray, Shaosong Ou, Nancy Pasternack, Krista Peterson, Andy Rabitoy, Beverly Riedinger, Jessica Rush, Kira Schabram, Alexsis Scott, Steven Sefcik, Tracey Seslen, Angela Shelley, Adam Shinn, D Shores, Stephen Siegel, Nedda Soleymani, Kate Spoor, Colette Vogel, Angela Wagner, Christine Wainwright, Elizabeth Weber
Learn more about MBA and undergraduate study abroad opportunities at the Foster School.