Palmatier wins third Stern Award for research in marketing channel strategy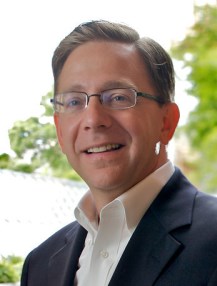 Triple crown. Hat trick. Threepeat.
Pick your favorite sporting expression of this magic number. Rob Palmatier has won his third Louis W. Stern Award from the American Marketing Association.
Palmatier is a professor of marketing and the John C. Narver Endowed Professor in Business Administration at the University of Washington Foster School of Business. He's also the research director of Foster's new Center for Sales and Marketing Strategy and editor-in-chief of the Journal of the Academy of Marketing Science.
The Stern Award annually honors one academic paper, published in the past three-to-eight years, that has made the greatest impact on the field of marketing channels and distribution strategy.
This year's award recognizes Palmatier's influential 2007 Journal of Marketing paper comparing the different theoretical perspectives of inter-organizational relationship performance.
Fast start
Palmatier joined the Foster faculty in 2007, after serving five years as an officer on a nuclear submarine in the US Navy and another ten years as a senior executive at Raychem Corporation and C&K Components.
In his young academic career, his research has traversed the areas of marketing strategy, relationship marketing and marketing channel theory and strategy. He's been remarkably productive.
To date, Palmatier has published 39 papers in the field's top peer-reviewed journals, with another five currently under review or revision. He's authored 20 books, book chapters or MSI Working Papers. His publications have been cited more than 4,500 times.
All of this has earned Palmatier a long list of accolades. He was named a Marketing Science Institute Young Scholar in 2007 and the SMA Palgrave Promising Youth Scholar of 2008. Also in 2008, he received the Journal of Marketing's Harold H. Maynard Award for significant contribution to marketing theory and thought. He is a seven-time AMA Sheth Foundation Doctoral Consortium Faculty Fellow. And he won the American Marketing Association's Varadarajan Award for Early Contribution to Marketing Strategy Research in 2012.
Previous to this year's Stern Award, Palmatier received the same recognition in 2011 and 2014.
Taking it to the street
A dedicated producer and promoter of research that has immediate organizational applications, Palmatier founded the Foster School's Center for Sales and Marketing Strategy in 2014.
The center works to align important sales and marketing problems with academic research and analysis techniques to develop strategies that improve business performance and to facilitate business-academic collaboration to create and disseminate sales and marketing knowledge.