U.S. News ranks Foster Full-time MBA in top 20 nationwide, #1 in job placement among top 25 schools
The University of Washington's Foster School of Business achieved a top 20 ranking nationwide in U.S. News & World Report's 2024 Best Business Schools ranking. Foster moved to #20 in the nation, up two spots from #22 last year, and is in the top five percent of MBA programs according to one of the most-widely read collegiate rankings.
Foster's ascension to the top 20 was driven in large part by a 99% employment rate three months after graduation, the best of any of the top 25 schools. The composite ranking is an improvement in seven of eight criteria this past year including compensation, average GMAT score, acceptance rate, peer assessment, recruiter assessment, employment at graduation and employment three months after graduation.
Several other Foster MBA programs were ranked among the highest in the nation. U.S. News & World Report ranked Foster's Evening MBA #11 in the Part-time MBA ranking and Foster's Hybrid MBA #5 in the Online MBA ranking. Foster's Executive MBA came in #27 in the publication's Executive MBA ranking, up four spots from last year.
Prepared to lead
"This is an honor for the entire Foster community," said Wendy Guild, assistant dean of MBA programs. "Achieving this ranking is a recognition of the value the program provides, and the benefit of a curriculum centered on experiential learning. Foster graduates have tremendous career outcomes, and they enter the workforce with the skills to succeed for years to come."
Foster full-time graduates average a starting salary and bonus of $181,673, a 20% improvement over the last two years. The high salary and near perfect employment rate are testaments to Foster's MBA Career Management team, a talented group of accomplished coaches with corporate experience. Students participate in a portfolio of unique, award-winning programs including Design Thinking and Radical Collaboration.
"Foster graduates have a leg up in several ways," says Bronica Sam, senior associate director of Foster MBA Career Management. "Being in Seattle, we have great access to many of the world's leading companies in a few different sectors. Foster also has a tight-knit alumni community, who hire and serve as mentors to Foster students. And students collaborate with faculty and industry leaders on real-world challenges that are timely and relevant."
Fostering a diverse and dynamic community
These metrics attract a diverse and talented student body. The most recent entering class featured an average GMAT score of 710 for the first time. The cohort sports an average of six years of work experience in industries including technology, consulting and healthcare. Foster welcomed a Full-time MBA class with diverse representation from historically underrepresented students of color, and well as members of the LGTBQ+ community, international students and veterans.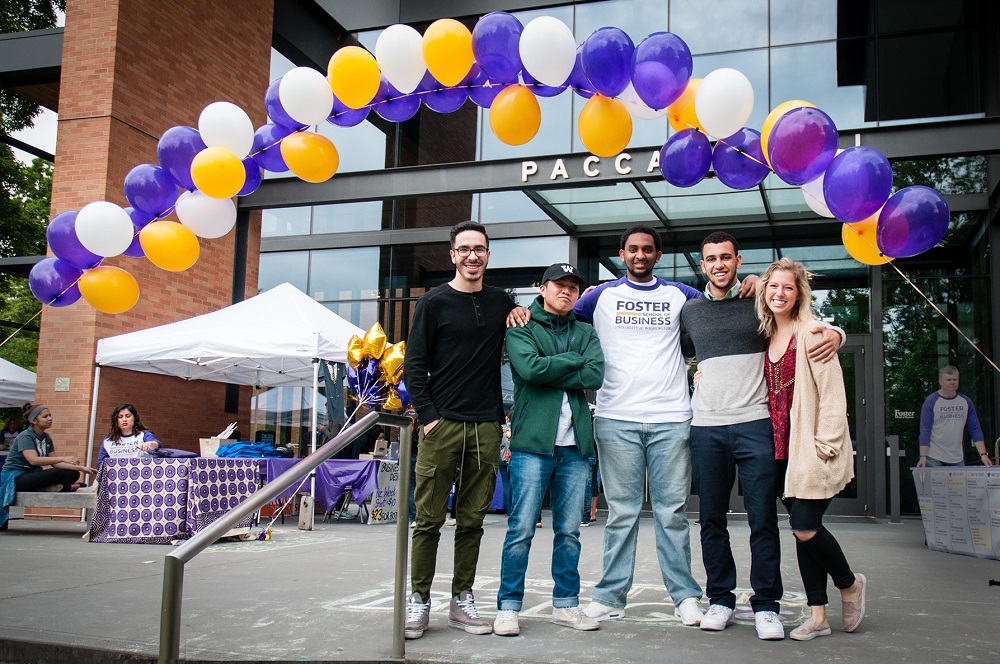 Bettering society through business
While not as easily quantifiable, what truly distinguishes Foster is the school's mission to better humanity through business. Uplifting the community is an essential component to every aspect of the Foster MBA experience. This can take many different forms, from climate initiatives to social justice. For example, Foster students claimed a fourth-straight "Golden Briefcase" in last year's MBA Challenge for Charity, which pits the top West Coast schools against each other in friendly competition to volunteer the most hours and raise the most money in support of local nonprofits. And in 2022, the Full-time and Evening MBA programs announced the launch of a new specialization in ESG (Environment, Social, and Governance) Leadership.
"At the Foster School, we challenge our students to consider how they, and the organizations they work for, can contribute to society in positive ways," says Frank Hodge, the Orin and Janet Smith Dean of Foster. "Doing so requires that we provide students the technical skills they need to succeed, but also, perhaps more importantly, the mindset to always be looking to make things better. To innovate. To improve. If we're teaching a mindset that starts with the question how can I help you?—we'll find ways to make our communities better."
Leadership is a hallmark of the student experience at Foster. Development opportunities can be found in classrooms, clubs, and centers where students practice in an environment that sets them up for success throughout their careers. In addition to the dynamic MBA Mentorship Program providing executive mentorship, the Foster community boasts a robust Full-time MBA Fritzky Leadership Fellows program that coaches second-year students to provide mentorship to first-year students in their teamwork skills.
Ranking MBA programs by fit
To help prospective MBA students identify programs that best fit their priorities, Foster created the MBA Rankings Calculator. MBA candidates can access rankings data from U.S. News, Businessweek, Financial Times and Forbes to create their own custom ranking. This free tool leverages school performance data, including salary and placement, student selectivity, faculty research, low average debt, return on investment and more.
Create your Top 30 MBA Ranking.
Learn more about Foster's current rankings.