MGMT 430 Case Competition Spring 2023
Written by Anna Butler, Foster Student
Our Strategic Management Capstone is a highly anticipated event each quarter, and this past Friday, May 26th, was no different. Starting bright and early, the PACCAR building was packed full of students rehearsing their presentations and ready to showcase their knowledge. These 300 students (60 teams!) have been preparing all quarter for their presentations and brainstorming solutions with their teams of 4-5. This quarter, they have spent countless hours conducting research to provide Tableau with a solution for how to grow their business for use by more data consumers. Students focused on how to position Tableau's software and applications as a business intelligence tool to be used by more people in organizations to make better decisions. Their work will be applauded and critiqued in a final presentation, ending with 3 winning teams. For some, this would be the last presentation they give at the Foster School of Business, as this capstone course is the culmination of a college education for our Foster seniors graduating this spring.
We had a huge turnout of Tableau and other Seattle-area professional judges, as well as student volunteers who make this capstone possible. Judges were thoroughly impressed with Foster students after the first round of 12-minute presentations, which included summaries of each teams' solutions, alternatives, implementation timeline, and financial analysis, and then 8 minutes of judge Q&A to expand on their recommendation and better understand how they reached their conclusion. Finally, the judges had 5 minutes to provide each team with feedback before attending a networking lunch to connect with students.
After opening remarks from Dean Hodge, the three winning teams were announced at the final award ceremony where Tableau and Foster students faculty and staff celebrated an enriching capstone experience.
A huge congratulations to our three winning teams:
Team G2

recommended Tableau Tutor, a virtual learning assistant powered by advanced generative AI, with tailored tutorials for users to emphasize learning by doing.

Team I4 

proposed a pilot in the wine industry to enter the agricultural space with a 'Guided Explorer' offering from Tableau to create a premium data experience across the entire value chain from farmers to consumers.

Team K2

recommended the creation of TableauSB for small business specific Tableau needs such as e-learning modules, user anecdotes, dashboards, and specific guidance on how Tableau can benefit small businesses in various industries. 
Team G2
Team I4
Team K2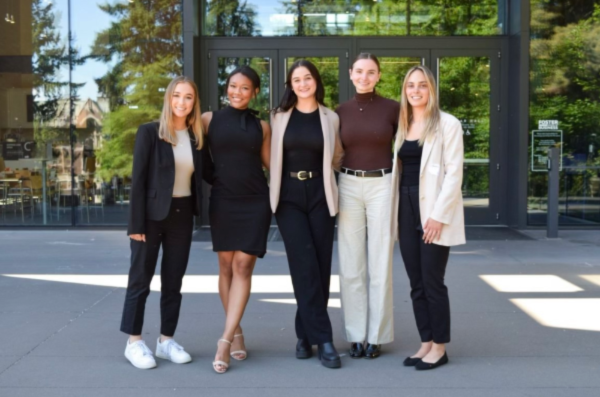 Overall, all teams performed extraordinarily well, and we are so proud of our Foster students for their success in this capstone course. Foster is incredibly grateful for our partnership with Tableau and for providing our students with an exceptional experiential learning opportunity. Below are some more highlights from Foster students and the Tableau team about their experience throughout this case competition:
Foster Students
"I feel so grateful to have had the opportunity to end our Foster experience with a culminating experience in one last case competition. As someone who has competed in a multitude of case competitions, I am lucky to have had one last chance to showcase skills learned from each of my Foster classes in a fun, experiential way. It was exciting working with a new team and taking a fresh perspective from those who had never done a case competition before. The combination of experience with new ideas and unique perspectives allowed us to succeed in this space, and I'll take this with me into my future career as a young professional" – Emma Dahleen, Foster Student 
"This was a great opportunity to combine all of the knowledge that I learned from all of my business courses throughout my time at Foster. All of the support from my fellow teammates and professor really helped me understand how to solve a real business problem and what to expect in the real-world. Getting live feedback from the judges really helped with knowing how to improve storytelling and presentation skills. Everything that I learned from this experience will help me in my future career." – Maxwell Nares, Foster Student 
"Capstone is a great way to witness the growth and learning that you have accomplished through your years in Foster. When preparing for the case, my team brought insights from the various classes we have taken. Having a team with different majors and backgrounds was insightful for the many opportunities we have been given while at Foster. I know I will be bringing this knowledge to my career." – Emma Koehler, Foster Student
Tableau 
"What an incredible experience to watch so many talented and driven students present such thorough, compelling, innovative ideas that really touched on key improvement areas for Tableau. Each group really did their research to understand Tableau inside and out, and all groups went above and beyond to be creative in their solutioning. There was not a single presentation that I wasn't intrigued by! My second takeaway was what a wonderfully collaborative event this was, bringing together Foster (who has been a long time partner with Tableau) and Tableau to evangelize incredible opportunities and networking on both sides. I love getting to return to my alma mater and help support the next generation of workforce!" – Brynn Hodgeson, Tableau
"The students came with deep analysis and thought behind not just analysing the Tableau business, but also telling a story (often with data) – and that was the most impressive aspect." – Sahil Patel, Tableau
"The ideas the students provided and effort they put into presentations opened my eyes to the breadth of opportunities Tableau has across the board! We were given nuggets of gold, and I'm so grateful for the event organizers and students for involving us during this invaluable experience. Everything from developing a strategic business opportunity, reviewing the case, to the day-of competition was a really interesting and exciting process to be a part of." – Kelly Nesenblatt, Tableau